Den And Pack Recognations/02-05
By: Great Salt Lake Council Posted On: 2022-06-04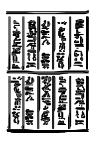 Nile Award                                          Raingutter Regatta
Alligators, Crocodiles                         Venetian Boats
Sphinx Award                                     King Tut
Archeology                                         Mummy Award
Golden Scepter Award                       Parchment
Cobra Award                                      Egyptian Award
Pyramid Award
  BSA FAMILY AWARD  

Suggested Topic
'Adjusting to a Move'

Life is full of changes. All children face, at some time, a move to a new location, a friend
leaving the neighborhood, a new family moving into the area, or a loved one who is leaving
home and moving away. Change is always traumatic, and helping children cope and even
find excitement and fun in the moving process is a worthwhile goal. If someone is moving
out, talk about ways to still keep in touch, such as phone calls, letters, E-mail, and proposed
visits. Welcome new neighbors, cook a treat to take to them, and take the children
with you as you visit. If you are moving, make it an adventure. Plan a few days
of vacation on the way to the move. Do some sightseeing, stay in a motel,
take your time. Help children realize that although life changes around
them, the basic family unit, and the love you have as a family, is still
secure.
 
References / Source:
Great Salt Lake Council