Charro Beans (Frijoles Charros)
Posted On: 2022-07-13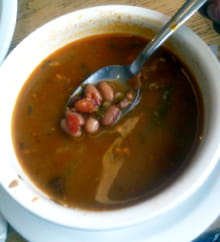 2 lb Dried pinto beans
1/2 MD Onion
30 ml Garlic
1/4 c Pinch of Herbs seasoning
2 pk (1 lb ea) bacon -- cut into 1-inch pieces
3 LG Tomatoes -- chopped
1 MD Onion -- chopped
6 Serrano chiles -- chopped

Place beans in a 12-quart Dutch oven. Add water until pot is 3/4 full. Add onion half, garlic cloves, and herb seasoning. Bring to boil. Cover and simmer for 1 hour 15 minutes, or until beans are tender. Remove onion half. Cook bacon in a large skillet until tender. Drain off excess drippings, reserving 3 tablespoons. Continue cooking bacon until browned. Drain on paper towels.

Heat reserved drippings in skillet. Add tomatoes, onion, and chiles. Saute until thoroughly cooked. Add bacon and tomato mixture to beans. Simmer until heated through. Makes 12 to 15 servings.