Games3/02-04
By: Great Salt Lake Council Posted On: 2022-05-27
    WHERE IS THE SOUND?

Materials:
Jelly jar 1/2 filled with dried beans
Blindfolds.

Sit on a chair, blindfolded. Have another scout rattle the jar containing dried
beans in different places behind you.

Say where you think the sound is coming from. How many times did you get it
right?

What happens? You have two ears so your brain can compare noise levels reaching each ear and
calculate where a sound is coming from. When a sound is equally distant from both ears, it is
hard to judge where it is being made.
  ONE EYE TEASER

Materials: Pen with a lid

Close one eye, then hold up a pen in one hand and its top in the other.
With your arms slightly bent, try to put the top on the pen. Can you tell
if the top is in front or behind the pen? Now use both eyes.


What happens? Your two eyes give you two
slightly different views. Your brain compares
these two views to judge exactly where things
are. When you close one eye, you have only one
view so it is much harder for your
brain to judge the distance
between objects.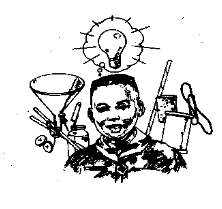 References / Source:
Great Salt Lake Council