Feijoada
Posted On: 2022-08-08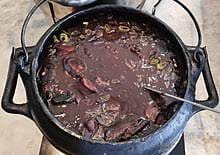 2 lb Dried black beans
1 tb Vegetable oil
4 c Chopped onion
3/4 lb Turkey Polish kielbasa, Cut Into 1/2-Inch Cubes
4 LG Garlic cloves; minced
2 ts Ground cumin
6 c Water
1 ts Salt
1/4 ts Pepper
1 Bay leaf
1/2 c Red wine vinegar
1/2 ts Hot sauce

Sort and wash beans; place in a large Dutch oven. Cover with water to 2 inches above beans, and bring to a boil; cook for 2 minutes. Remove from heat; cover and let stand 1 hour. Drain beans; set aside.

Wipe the pan with a paper towel.

Heat oil in a pan over medium heat. Add onion, kielbasa, and garlic; saute10 minutes or until the onion is tender. Add cumin, and saute for 1 minute. Return beans to pan. Add water and the next 3 ingredients; bring to a boil. Cover, reduce heat, and simmer for 1 hour and 10 minutes or until beans are tender; remove bay leaf. Stir in vinegar and hot sauce. Yield: 15 cups (serving size: 1 cup).